Rocktober Burlesque
October 24, 2017
Showtime: 8:00 pm
Doors 6:30 pm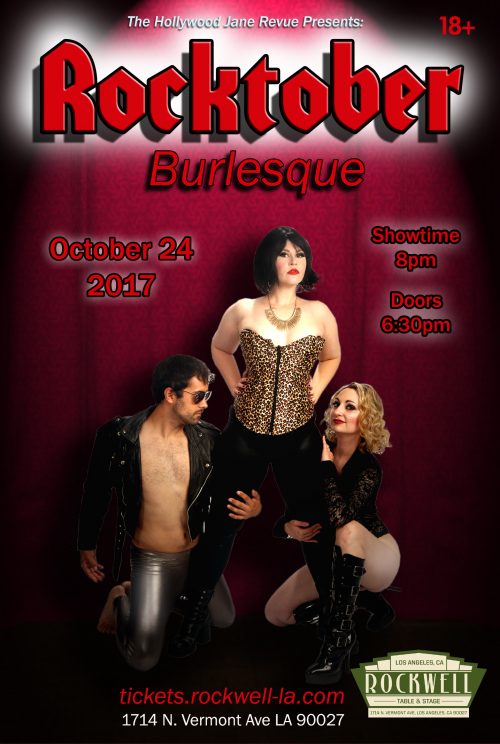 Welcome to the jungle, we've got Stripping Dames!
Get ready to rock out with The Hollywood Jane Revue! We're celebrating the month of Rocktober by bringing you an evening of Rock n Roll Burlesque! Join us for guitar shredding and clothes shedding!
You'll Rush to see this Motley Crue of burlyQ shake it all night long! You'll cheer so hard you'll go Def (leopard)! So don't get it twisted, sister, buy your tickets now!
Burlesque by:
Blanche Bourgeois
Alice Le Grande
Brandy Snifter
Veronica Voss
Gwen Ruby
Lana Entendre
Lemi Atom
Amber Dextrous
Jinx The Kink
and
April Showers, Miss Hollywood Burlesque 2015
Rockwell Table & Stage
1714 N Vermont Ave, Los Angeles, California 90027
18+
Please note that parties cannot be changed or combined once you've chosen your seats and purchased your tickets.
Guests are encouraged to arrive early and enjoy Rockwell: Table & Stage cuisine and cocktails. There is a two item minimum.
For additional information, please call (323) 669-1550 ext. 20.